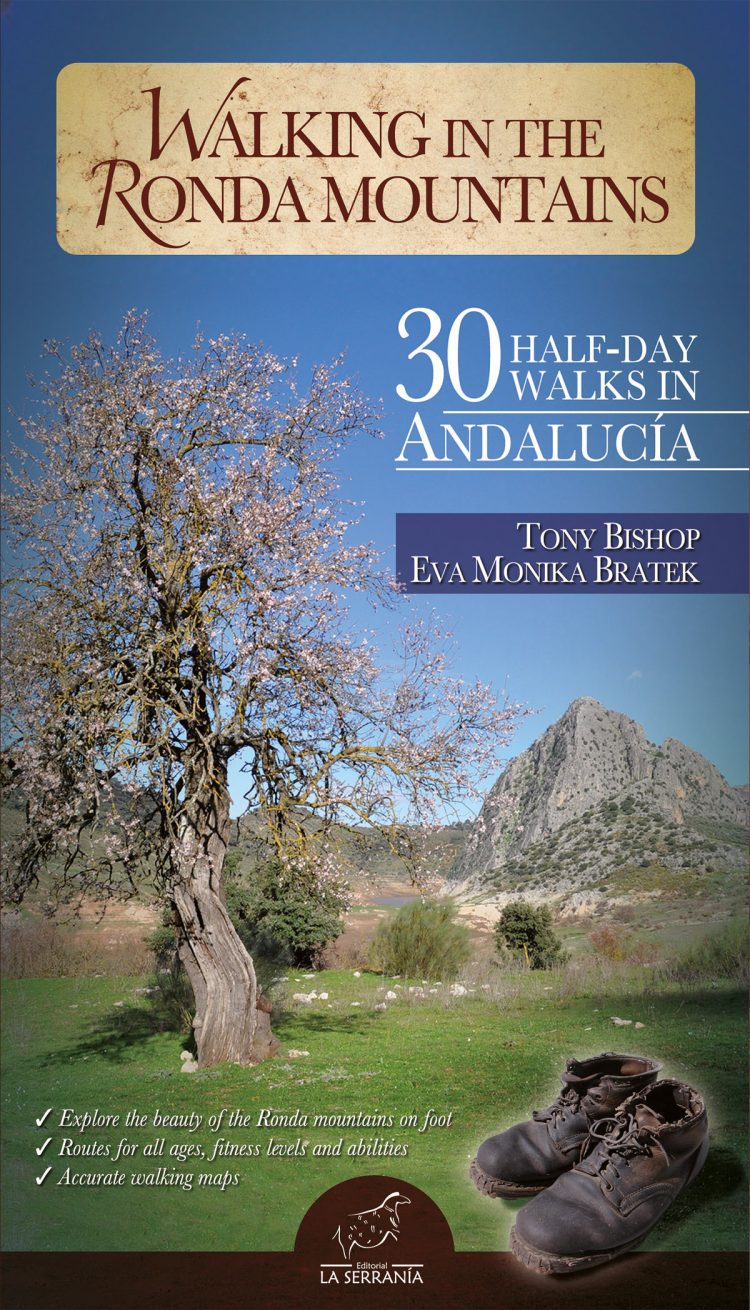 Walking in the Ronda Mountains. 30 Half-day Walks in Andalucia
Tony Bishop
Eva Monika Bratek
"As I walked through the galleried woodlands along the river the first time I did this route, I could hardly believe that I was in Andalucía. It was my first visit to the region and I had arrived with a vague notion that Andalucía was all brown, dusty and barren. I could not have been more mistaken. It was late springtime and I felt immersed in the song of the nightingales. Throughout the walk, the vegetation along the river is lush and dense."
Thus begins the description of one of the walks in this new English language walking guidebook "Walking in the Ronda Mountains: 30 half-day walks in Andalucía". It is written by two experienced walkers, Tony Bishop and Eva Bratek, who live in the village of Montejaque just outside Ronda. All the walks are located in the Serranía de Ronda, reflecting the authors´ passion for keeping a local focus. They also recognise that many people don't want to spend hours in cars, buses or trains, getting to and from walks. This book provides a beautiful, varied and gentle introduction to the Serranía de Ronda.
"Walking in the Ronda Mountains" is a first for the Ronda area: an English-language walking guidebook covering 30 half-day walks in the Ronda mountains that includes notes and photographs on flora and fauna likely to be encountered on each walk. For those who like to stroll through peaceful mountain landscapes whilst admiring trees, wildflowers and birds, this book is ideal. The book takes the reader through some of the most beautiful and yet least known parts of the mountains around Ronda.
An increasing number of discerning visitors are now seeking out something different to the Costa del Sol and journey into those inland parts of Andalucía where walking boots are more useful than a bathing costume. They arrive here for the first time and then vow to return. Some even come back here to live permanently. Those fortunate enough to live in this part of Andalucia will also be able to use this book in order to get to know their own backyard even better than before. Several of the 30 walks are accessible by using just public transport.
The area covered by "Walking in the Ronda Mountains" includes the Sierra de las Nieves UNESCO Biosphere Reserve, the Guadiaro Valley, the Sierra de Grazalema Natural Park, the upper and mid-Genal Valley, the Sierra Bermeja and the Sierra Blanca.
"Walking in the Ronda Mountains" highlights the wealth and diversity of hiking routes in the Serranía de Ronda. Recognising that many people are not interested in climbing mountain summits, Eva and Tony have concentrated on walks on public footpaths in the mountains. During a walk "you should have a sense of being at one with your surroundings, even when the setting is jaw-droppingly magnificent."The authors bring the rich and diverse birdlife and wildflowers to life with vivid photographs and descriptions. The in-house produced route maps should eliminate any risk of getting lost.
The longest walk in this book is about 4 hours. Many are just 1.5 – 2 hours in length, a few even less than that. So the reader will have ample time for rest stops, for admiring their surroundings and for doing something else with the rest of their day. Eva and Tony have also chosen the walks for the way that they contrast with each other, as well as for their individual intrinsic merits.
Local ornithology author Juan Oñate summed this book up perfectly: "The authors´ witty and thoughtful passion for nature shines through this much-needed book. A mix of acute observation, an eye for detail and every encouragement to buy a pair of binoculars".
Gastos de envío gratuitos para todos los pedidos.
Etiquetado en:
Books
,
Guide
,
Hiking
,
Ronda Mountains
,
Walking
,
walking Almeria
,
walking Andalucia
,
walking Andalusia
,
walking Cadiz
,
walking Cordoba
,
walking Costa del Sol
,
walking Granada
,
walking Huelva
,
walking Jaen
,
walking Los Alcornocales
,
walking Malaga
,
walking Ronda
,
walking Serrania de Ronda
,
walking Sevilla
,
walking Sierra de Grazalema
,
walking Sierra de las Nieves
,
walking Valle del Genal
,
walking Valle del Guadiaro
Detalles
Editorial:

Editorial La Serranía

ISBN:

978-84-15030-25-6

Páginas:

168 a todo color

Formato:

12×21 cm

Encuadernación:

Rustic, with lapels

Fecha de publicación:

February, 2011

Idioma:

English
Autores
Tony Bishop

Tony Bishop has been walking extensively in this area for the past seven years and lives in a mountain village near Ronda in the Sierra de Grazalema Natural Park. In the early 1960s he began hill and mountain w …

[Leer más]

Eva Monika Bratek

Eva Monika Bratek lives in Montejaque. She has been walking in different parts of Andalucia for over fifteen years. An avid naturalist, her passion for plants and animals began as a child when she first learned …

[Leer más]