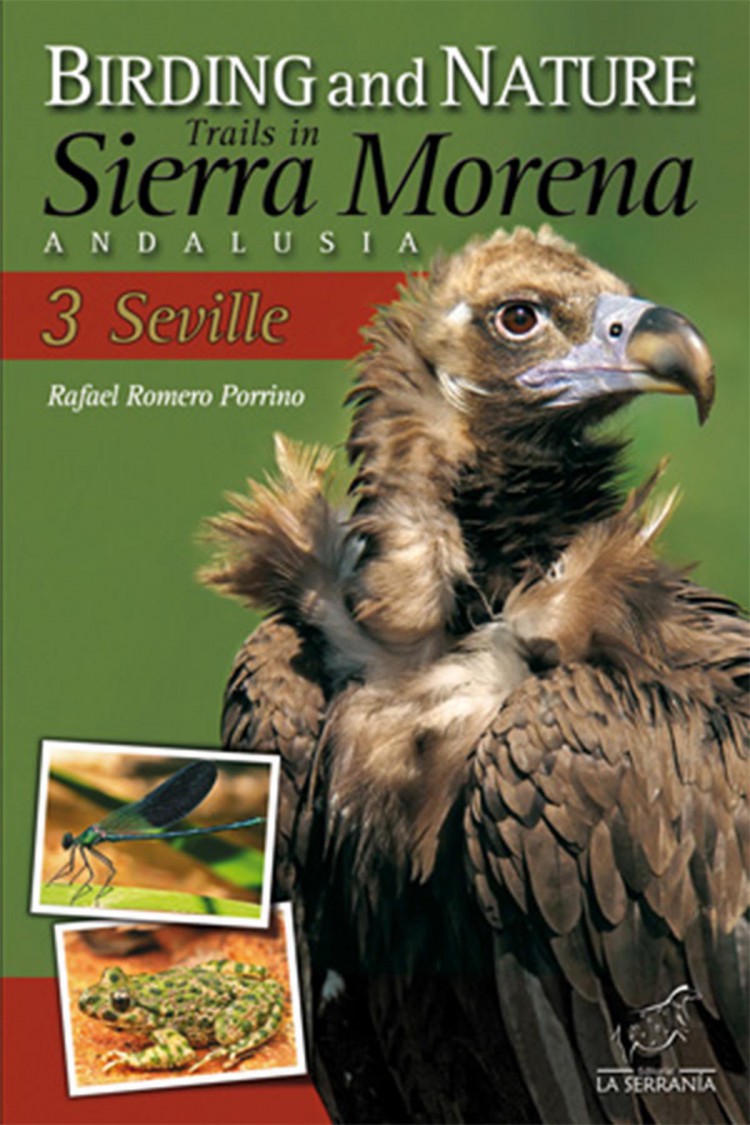 Birding and Nature Trails in Sierra Morena. Andalusia: 3. Seville
Few visitors suspect than only a stone´s throw from Seville´s famous Giralda Tower lies such a surprising area as Sierra Morena Sevillana, a perfect blend of the wilder, unkempt scenery to the east and the leafier, trimmer landscape to the west.
Sierra Morena Sevillana is a treasure trove of untold beauty. Vast swathes of unspoilt Mediterranean woodland stretch off to the horizon; remnant orchards tucked beside chalkwhite villages on gorgeous autumn hues; countless hills and knolls look down on the rivers and streams wending their way seawards; woods of mighty Cork -and portuguese- Oaks alternate with livestock-grazed dehesas; steppe-like plains contrast with thick-scrubbed hillsides. Such a huge area so replete with natural charms, so rich in heritage, is sure to delight trekkers, curious tourists and, of course, naturalists. Its impressive roster of raptors is headed by coveted gems like Cinereous Vulture, Spanish Imperial Eagle, Golden Eagle and Bonelli´s Eagle. In its rivers live Iberian-endemic amphibians and fish so rare and local that their only vernacular tags are the lovely Spanish names of "colmilleja", "boga", "cachuelo" or "calandino", stalked by Otters and Black Storks. Iberian Chiffchaff, Nightingale, Western Orphean Warbler and other delightful songsters sing in spring; Yellow Bee Orchid, Naked Man Orchid and even rarer orchids like Violet Limodore grow beneath crags where Little Swift and Eagle Owl nest; to and from these flowers flit beautiful butterflies like the exotic Two-Tailed Pasha or the threatened Marsh Fritillary; rivers and streams fringed by unbroken Alder Carrs are haunted by rare dragonflies like Orange Spotted Emerald and Western Demoiselle; Black-Bellied Sandgrouse and Calandra Lark raise their broods on the plains; Egyptian Vultures soar down river canyons; even its geology is world renowned…
In fact, if one word sums up the wildlife of Sierra Morena Sevillana that word is diversity. Readers will find in these pages 15 nature-watching outings of different types (car drives, hikes, family-friendly strolls and fixed vantage points) and with different degrees of difficulty, so that past masters and budding dirders alike can steep themselves in the fascinating sights and sounds of this stunning area.
Detalles
Editorial:

Editorial La Serranía

ISBN:

978-84-15030-41-6

Páginas:

244 a todo color

Formato:

14x21 cm

Encuadernación:

Rustic, with lapels

Fecha de publicación:

April, 2012

Idioma:

English
Autor
Rafael Romero Porrino

Nacido en Aracena (Huelva, 1982), desde siempre ha sentido fascinación por la Naturaleza, y en especial por las aves. Miembro de varias asociaciones conservacionistas, participa habitualmente como voluntario en …

[Leer más]